Call Today! (780) 717-7152
Canadian Grass roots Well Services
Alberta's experts in super heaters and hot oiling services
At Canadian Grass Roots we have made it an initiative to grow and maintain one of the the most up to date fleets of large scale water heaters on the market. With an on-site management lead of over 80 years of combined experience, we intend to change the current status quo and "Deliver on our Promises!" We understand your timelines and budgets and have mandated that it is essential to respect and perform to these… Every time. It is not our goal to be the biggest, but it is essential to our model that we are one of the most reliable companies in the industry. We pledge to achieve this goal safely and responsibly above and beyond.
CGR offers a fluid heating service that utilizes the largest heating units built in North America today. CGR operates diesel fired units as well as propane units and can heat up to 2,600 ltrs/minute with a 47°C differential. Our units range from 35 MBTU up to 38 MBTU output. These specialized units are used for heating large volumes of fluid such as fresh water, KCL fluid, ponds, glycol systems and boiler feed water for plant start-ups.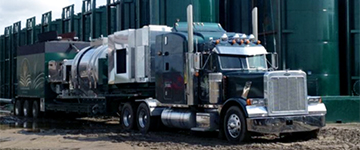 The most recent addition to CGR's service is a Hot Oil Unit. This unit is equipped with a 5 MBTU diesel fired heater capable of flowing 500 ltrs/minute at 50°C temperature differential, a 3×2 centrifugal pump that can flow 400 GPM and a Gardner Denver 3×5 Triplex that can flow 138 GPM and a maximum pressure of 5,000 PSI. This unit can be used for pressure testing, well killing, oil well circulations for de-waxing, disposal well pumping, tank heating and circulating, fluid transfers and some chemical cleaning applications.